Up to 50% Off Indian Food at Chowpatty Restaurant
https://img.grouponcdn.com/deal/bbShrvc77mJcwKK2MBRV/Qt-7360x4912/v1/t440x300.jpg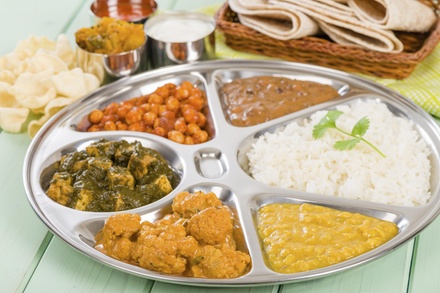 Was $30.00
Now:

15.00



$
50% Discount
Choose Between Two Options
$15 for $15 for $30 worth of food and drink
$20 for $20 for $30 worth of food for take out
A Chat with Chowpatty Restaurant
What services does your business offer and what makes your business stand out from the competition?
We specialize in the ultimate savory sensations of Age Defined Indian Culinary Artistry. Millions of Indians in USA would willingly vouch for our Professionalism, Service and Quality that they have tried, tasted and experienced over past 25 years. Our eternal promises of ultimate satisfaction for our diehard patrons have stood the test of time and continues to be our strength.
What was the inspiration to start or run this business?
In August 1990 the dream to bring pure and authentic Indian Culinary artistry in America came true when we inaugurated Chowpatty Restaurant & Caterers on Oak tree Road. Our concept always has been to serve taste, quality and quantity of Top Shelf standards, which was established as our fundamental principal since very beginning. With every member of our family personally supervising this philosophy year after year, today we cater the best Indian food in America.
What do you love most about your job?
The moment when you see a customers face light up when they try a new dish for the first time!
What is the best reaction you've ever gotten from a customer?
"Food was truly amazing in taste, look, presentation, & quantity. Your staff and you are very professional to work with!" Rakesh & Akta Patel & Family.
May be repurchased every 90 days. Limit 1 per person, may buy 1 additional as gift. Limit 1 per visit. Limit 1 per table. Valid only for option purchased. Not valid on Saturday or Sunday. Option 1 not valid for takeout.
1. Woodbridge Township
1351 Oak Tree Road
Woodbridge Township
NJ

08830


US