$25 for Premium Home Teeth-Whitening Kit from White Smile Central ($116.95 Value)
https://img.grouponcdn.com/deal/4D3trkkX8usvrw5K2wRL/Zm-700x420/v1/t440x300.jpg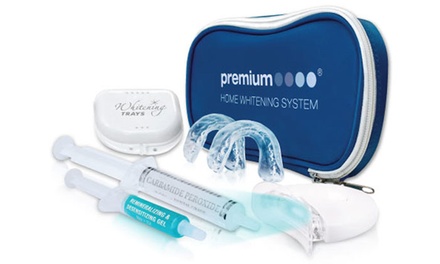 Was $119.05
Now:

25.00



$
79% Discount
Having white teeth is part of the American dream, along with having two beautiful, self-sufficient toddlers. Have something to smile about with this Groupon.
$25 for a Premium Home Teeth-Whitening Kit ($116.95 value)
The Premium Home Teeth-Whitening Kit includes: 
One set of upper and lower thermoforming mouth trays 
10ml of whitening gel (10-14 applications)
3ml of remineralizing gel 
Blue-LED accelerator light 
Mouth tray storage box 
Stylish, zippered travel bag 
Instructions
May buy multiple. Shipping is included.
1. Midtown Center
415 Madison Avenue, 15th Floor
New York
NY

10017




Midtown Center


US